I'm a small town, southern gal, who never had much exposure to the Classics. As a teen, I considered myself to be a "good reader" because I'd read all of Janette Oke's book and an assortment of romance novels. Slowly, I branched into the mystery section, and finally the classics. I still had a long way to go, but I was awakened to the idea that hard books could be
good
. It wasn't until I began homeschooling and was introduced to the classical method that I realized just how good the good books really are. They're not just good for pleasure, but good food for minds and souls.
Now that my boys are teens, I love tackling the classics with them. I don't know how to teach them
at all
, so I rely heavily on good publishers to guide me. I was introduced to Roman Roads Media last year, as part of The Schoolhouse Magazine Review Crew. I reviewed their curriculum
The Greeks
and was very impressed. This year, they invited me to try
The Aeneid
and offered to give a full set of the program to one of my readers, too!
The Aeneid provides about 6 hours of content. Wes Callihan teaches the course, and he does it well. The 6 hours goes by quickly. The quality is good, set in a relaxed atmosphere, but still quite professional. Wes Callihan's voice is mesmerizing. It doesn't put you to sleep, but rather draws you in. Even my younger children find themselves frozen in place when walking through the room, unable to resist the power of his voice. It's not as if he's weaving a tale, but more like a casual chat in his library...with really great sound recording.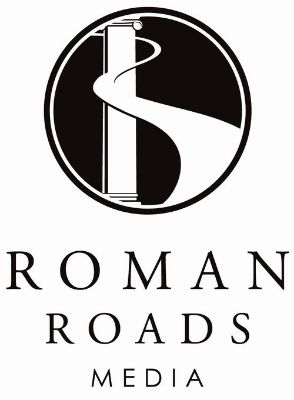 I love that the lessons include pop-ups of names, timelines, and vocabulary words, helping combine my need for visual as well as auditory learning.
In Aeneid, you'll find Twelve Lessons:
Lesson 1: Introduction to the Romans (37:18 minutes)
Lesson 2: Introduction to the Aeneid (31:55 minutes)
Lesson 3: Rome as an Idea (36:29 minutes)
Lesson 4: The Fall of Troy and the Wanderings of Aeneas (41:10 minutes)
Lesson 5: The Tragedy of Dido (35:29 minutes)
Lesson 6: The Underworld (36:11 minutes)
Lesson 7: The Broken Truce and Shield of Aeneas (28:24 minutes)
Lesson 8: The Tragedy of Nisus and Euryalos (26:44 minutes)
Lesson 9: Camilla, Juno's Surrender, and the Death of Turnus (31:52 minutes)
Lesson 10: Metamorphoses I (36:52 minutes)
Lesson 11: Metamorphoses II (50:30 minutes)
Lesson 12: Epics of Lucretius, Lucan, and Statius (37:21 minutes)
The recommended schedule for The Aeneid is 9 weeks long. It includes watching the DVD lectures; answering comprehension questions; reading assignments from The Aeneid, Vergil, and other Roman epics; a term paper; and a final exam. Also included with the program is a booklet that explores ancient art and more recent artistic responses to the literature being studied. A brief art lesson is included with each chapter of the DVD as well as a list of many related paintings for students to explore.
The Aeneid
is available as a DVD, with PDF workbook and exams or as a streaming video series, which are $56 each. The streaming option is mobile friendly, which is very convenient. The workbook is also available in printed book form for $12.00. My preference is what Roman Roads gave me: a combination of all of these, available for $62.00. A digital version of The Aeneid is included with these purchases, though a physical copy is recommended.
The series is deep and most appropriate for high school students.
Romans Road Media's approach incorporates literature, history, philosophy, theology, geography, and art. It's the perfect humanities course.
Roman Roads has issued a
fabulous offer
and challenge to parents: Work through this program with your students by May 15th and receive 20% any
Old Western Culture
Product. You can also
join in discussions
with other parents working through it at the same time.
You can
sample the format
of the program for free to see if it is a good fit for you. If you like this DVD, there are 3 more in the Romans series, or you can purchase all 4 as a set for a year long course.
For a taste of Roman Roads Media's educational philosophy, be sure to download the free ebook
Preparing Younger Kids for a Great Books Education
For a chance to win a free copy of The Aeneid, sign up with the rafflecopter below!
a Rafflecopter giveaway