As a young mom, I remember struggling with keeping my house clean and begging my Grandma for advice. Her house was always tidy as a pin. She always had time to work a full day at the office and then sit and watch t.v., play cards, or read to grandkids. She was relaxed and her house was clean. HOW??
Well, she was sleeping at night. That helped. She also wasn't chasing toddlers from daybreak to day-end. Most importantly though, she had made the basics such a habit that she never thought twice about them. It was just part of what she did.
The first lesson to take from this is an awareness that there is such a thing as a season. Expectations for a clean house are pretty low when you are chasing young children. If you have friends with higher expectations...you need new friends. A body only has so much energy and your top priority is not your house during this season; it's your
home.
The second is an awareness of the basics. But you'll think they're dumb.
Actually, if you are one of my neat and tidy friends, you won't think the basics are dumb, you'll think it's dumb that anyone could have an epiphany over them. Don't judge. Some of us have different gifts and some of us learn our lessons a little slower than others. Housekeeping comes naturally to some. I have a feeling it will always be a "sacrifice of praise" for me, but I'm getting there.
After begging Grandma for advice, she insisted it was easy: Make your bed when you wake up and wash your dishes before bed. That's it. Technically, that's not IT, but when you focus on those basics, the rest supposedly falls together.
I'm sure I gave her a less than enthusiastic smile and maybe even a hand-pat. I had no idea
she
was being patient with
me
, rather than vice-versa.
And now? Yeah. It matters.
Make your bed. Just do it. It takes two minutes. Somehow, it makes a huge difference. It really does.
And the dishes? Grandma did more than wash dishes before bed, she took an hour to clean up the kitchen after every meal and I never understood. I went in to help but didn't see anything left to DO! What was she doing in there??
I'm not spending the hour every night that she did, but I do make it a priority to have the dishes washed and put away. Flylady and I didn't gel very well, but she was right about a shiny sink being a foundational habit.
I'm my head, my kitchen looks like this: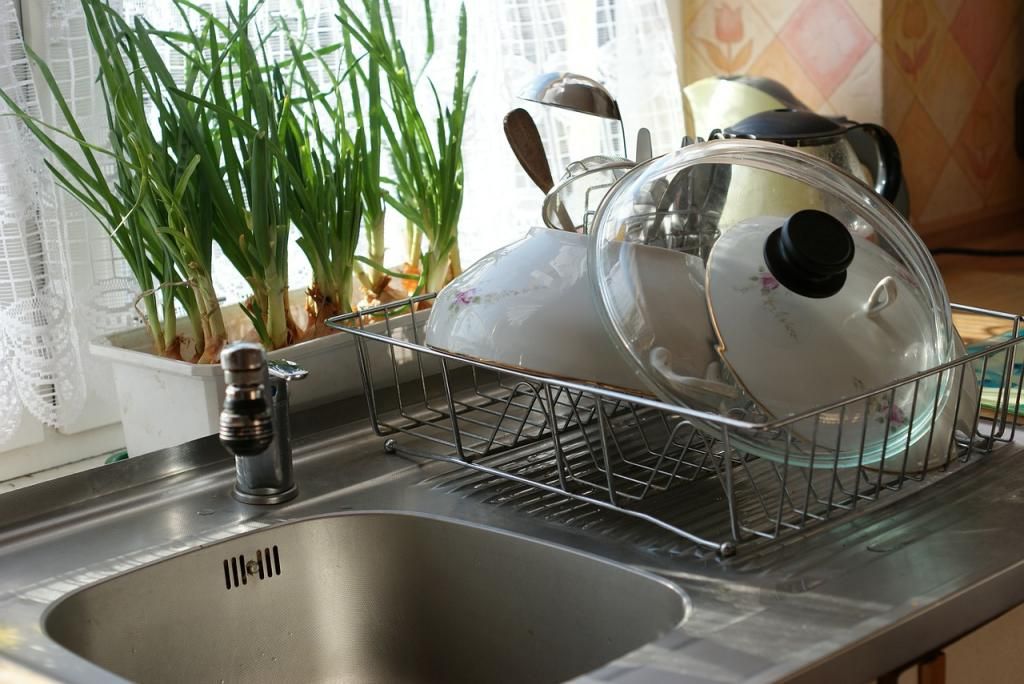 In reality, it currently looks like this:
Actually, that's the clean morning shot. For half of the day, it actually looks like this: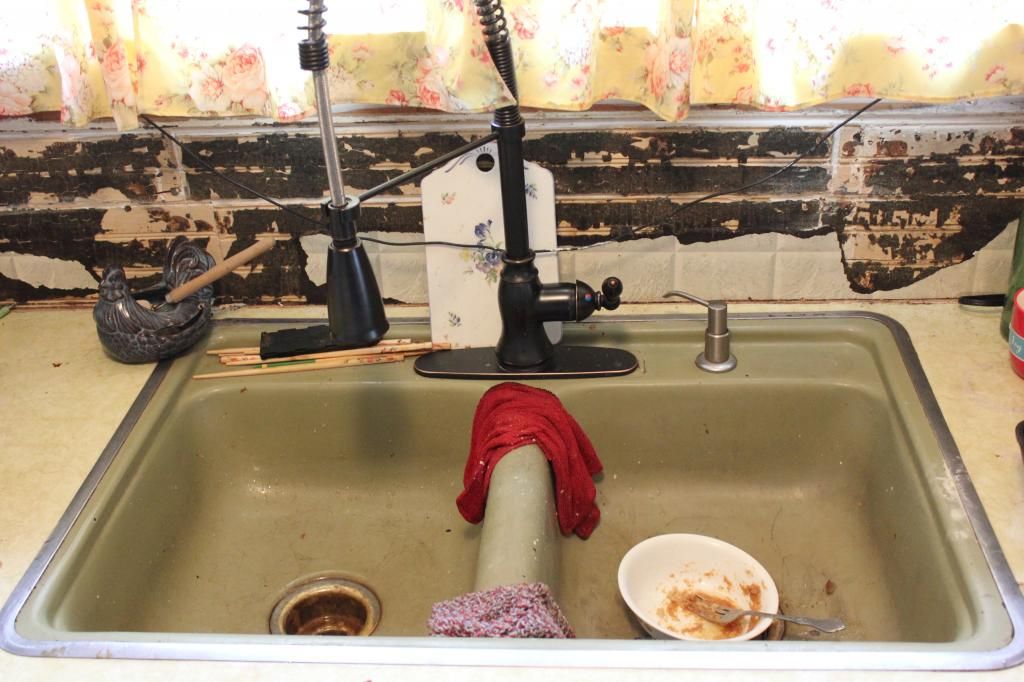 My sink is currently so unattractive, you wouldn't think cleaning it could matter much. I don't even have a real
wall
in there! No, my kitchen doesn't scream, "I'm clean!" when I polish it, but it does scream, "I'm dirty" when I don't. It matters.
How do you win with a mid-renovation house? How can you feel good about an avocado green sink? I try and remember that this old sink has helped to feed many a farm hand. It has filled many kettles and heard much gossip. It is what I have and I am thankful. It's ugly; there's no getting around that. But there are many people in the world who would be thrilled to have running water in their home. When I put it into perspective, it's suddenly beautiful.
I challenge you to try it. Implement these two habits every day for the next week and tell me you don't see a difference.