While I love reading aloud, I have always had a hard time reading the famous G. A. Henty stories out loud to the kids, for some reason. I don't know if it's the rhythm or pronunciation or what, but it doesn't flow well for me. Recently, I wanted the kids to hear a G. A. Henty story to accompany our Civil War studies and was thrilled to be able to have someone else read it to us.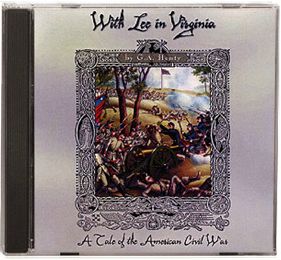 The Story
There are 20 chapters in this story, with a total run time of 11 hours and 20 minutes. Each chapter is a little over a half hour long, with a couple chapters being a bit over 40 minutes. These are perfect for our after lunch circle-time reading.
The story provides a southern viewpoint on the times. Henty lived in the South during this era and provides a unique perspective. The story is told through the eyes of Vincent, a teen son of a southern plantation owner. Prior to the story taking off, Vincent spent four years away in England, providing another interesting angle to the story. This makes for excellent discussion.
So many Civil War stories are told through the eyes of the North, or unfairly, through the eyes of our modern awareness. It was a different time and culture. It is impossible for us to understand how anyone could justify enslaving our fellow man. There is no justification for it, but there can be understanding of the times, which is something we strive for in all other area of history studies and this should be no different. However, material that explains the true perspective of people living at the time is not in abundance, so I especially appreciated this book for our studies.

The tale includes several battles and stories of life in camp, spying on the enemy, fugitive slaves, and plans for reconstruction. Perfect for a Civil War study.
Study Guide
The downloadable PDF Study Guide is 58 pages long and contains vocabulary study, review questions, and activities. There are also quizzes for every 5 chapters of the audio book.
Vocabulary
I recommend working through the study guide's vocabulary list prior to listening to the story so that students are ready for the new words. The vocabulary words appear in the guide in the same order they appear in the corresponding chapter. These vary from chapter to chapter and you'll find anywhere from 3 to 21 vocabulary words, averaging around a dozen per chapter.
Chapter Questions
Each chapter has review questions. These range from 4-10 questions, averaging 5 per chapter. These include comprehension questions, as expected, but they also include great thinking questions. Many deal with character traits, asking about positive and negative character traits exhibited by story characters.
Activities
There are a wide range of activities available. These range from working on an ongoing Civil War timeline to playing an online game of tic-tac-toe. While there are some of the "filler" activities, such as crossword puzzles, listed, most activities are relevant. Students are encouraged to research many different contributing factors to the Civil War and I think there are many activities that greatly increase their understanding of this tumultuous time in our history.
Quizzes
These are review questions pertaining to the previous 5 chapters. There are 4 quizzes in all.
Answer Key
Answers are provided for all questions in the guide. While there are some "Answers will vary" moments, these still include likely answers so that the teacher can know students are in the right line of thought. For example, one answer says: "Answers will vary: generosity, gentleness, hospitality, love."
I chose to not print the Study Guide, but to open it on my device and work through the material orally as a discussion time. The activity section often includes links to online activities or articles to read, so having it on the device is handy.
If you've read my audiobook reviews in the past, you know I'm very picky about my narrator's voice. We definitely have our favorites around here. The entire family agrees that Jim Hodges has a nice voice, but it is just too calming. We can't focus! Each time we listen, one of us falls asleep. The study guide helps us to force ourselves to try to stay alert, so that we can answer questions. It really is a struggle though to not let our minds wander, even though it is a good story. But like I said, we're a picky family when it comes to narrators. You can hear him speak for yourself, describing this book's premise in the video below.
You can purchase With Lee in Virginia as an MP3 CD for $25 or as a digital download for $18. The accompanying study guide can be purchased for $12
The Henty audio recordings all come in MP3 CD format. I didn't read the fine print on this one until I couldn't get it to play in our van during a road trip. I knew the CD worked because we'd listened to it through our DVD player previously. So I learned something new. MP3 CDs play on computers, DVD players, or MP3 CD players. An easy solution was to upload the files and then download them to my phone. We listened to our book while painting at the farmhouse. You could also burn it to a regular CD.
The Henty stories are well known for their historical accuracy as well as for their adventurous tales featuring characters with valor and true nobility.

There are many more stories available and you can learn more about them by clicking the Review Crew banner below.