The end of summer leaves me inspired to get everything in order. Down with chaos! Down with clutter! Our schedule is busy this year and I need to work hard to keep it from being cluttered as well. I recently tried the
The 7 Minute Life™ Daily Planner
by
The 7 Minute Life
as a tool to help me organize my days and keep them focused.

The planner begins with many pages of instructions or you can watch the
mini videos
to follow instructions. The instructions walk you through the first part of the journal. This is where you work through your goals, your hopes, your priorities. It helps you determine your purpose with a big picture view and then make a game plan for reaching your goals. It also encourages you to recognize the things that get in the way and find ways to avoid those distractions.
You'll want a good chunk of time and your favorite pen to work through this first bit. It took me a solid hour and I already knew my purpose, goals, and distractions before starting. My purpose is to love God and love others. My goals are to be obedient and effective in my role as wife, then mom, and then teacher. Any of the other hats that need worn throughout my week are of a lower priority than these.
The book is sturdy, with nice pages. The front of the book loudly displays the title and I feel like I'm carrying a self-help book around with me, but the inside is quite attractive. I love the celery-green boxes on white paper. It is calming to look at and begs to be filled in.
After working through your goals and tasks, there are monthly calendars to fill in and then the daily pages. These daily pages are two-page spreads, which you begin to fill out the day before and continue working on throughout the next day.
A very important part of the daily planner is the "5 before 11" list. This is to be filled out every evening, as you look toward tomorrow's day. What are 5 things you can do before 11:00 a.m. in order to be more effective and work toward change? My five are the same every day. They are the 5 things I have to do before 8:00 a.m. in order for my day to work well. Completing these five things gives me a headstart on my day. Not completing these five things means my day is much less effective and even chaotic, sometimes pointless. I discovered the need for those morning five items much earlier this year and I know the author is absolutely right about this section being very important.
The book is actually intended to be used by business persons, primarily those working in sales. A daily entry list, comprising half of the left page, is "Daily Contacts" and is intended to help you challenge yourself to make contact with more more people so that you can increase your sales. One fourth of the right-hand page is for handling voice mail, so that you can stay on top of your connections.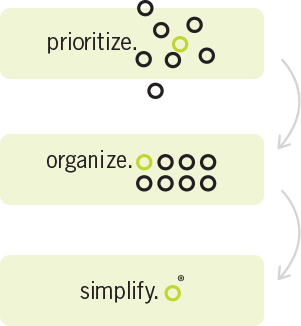 I am not in sales and I use my phone very rarely. These were not portions that I had any use for. But we're homeschoolers! We're creative and flexible! I heard of other crew members coming up with creative uses for these sections such as a prayer list, which is beautiful, but I already have a prayer journal. One used it for a shopping list, but the back of an old envelope works well for me.
Instead, I use one section for those "Oh! I need to remember to do this!" items. Generally, I tell my children, "Remind me to buy toilet paper after church!" or "Don't let me forget that we have to pick up Hannah on the way to church!" and so forth. I have a list for writing these things down now. And it's not written on an index card or post it for me to lay down and lose.
This also makes good room for me to take notes on things I'm studying through the week. These are usually relevant to what is going on in our days, such as things I'm teaching the kids or projects we are attempting.
I can also be more specific in this list as to what I'm teaching or doing at certain points in my day. For instance, I know that I'm doing circle time at 8:00, but this list tells me I'm doing 1 Tim 3. I know I'm teaching math at 9:00, but this list gives me a place to say which book or program we're using and to remind me that I need to contact the company, print out extra pages, etc.
If you are feeling stuck or adrift, this planner/journal might be an excellent starting point for you to evaluate your life: where you are and where you want to be.
The author asks, "When was the last time you had a framework for re-discovering your purpose?" and that question illustrates to me why I am not the target audience for this book. #1, the language used is vernacular from a completely different walk of life than mine. #2, It doesn't even apply. I have not ever had a "framework for re-discovering my purpose" but neither have I needed one. I know my purpose. It begins with the purpose of every human being on earth: To glorify God and enjoy Him forever. It gets more specific for the purpose my family has chosen to pursue: To love God and love others. It gets very specific for me, personally: to love God and glorify Him in my daily endeavors as wife, mom, and then teacher.
I do not mean to minimize the importance or aim of this journal. I think it is very important to figure out your purpose and your goals. In fact, I think it is vital. This is why my family has spent the last few years talking about our purpose and and working towards our goals. Having already thought long and hard about these topics, I found the journal less helpful than it might be for someone just starting this journey of discovery.
I am very satisfied with my life. If things do not fulfill my purpose, they do not make the cut. The area I need to work on is to make my efforts in these areas more efficient and effective (which sounds like more nonsense-business-vernacular, but I can't seem to think of a different way to word that very sincere sentence.) This journal has given me some ideas for getting there.
The 7-minute Life Daily Planner contains 270 pages, giving 90 days of planning and can be purchased for $24.95.