My girls have been trucking right along with their math skills this summer, flying through material and catching up quickly after our long pause to focus on memorizing the multiplication tables. I spoke with a friend who is a Math Tutor and she explained something to me that I have heard but never quite grasped before. She said it is as if there is a Math side and a Language side of the brain. When students encounter addition and multiplication in grade-school, they first use the Math side, but as the facts get memorized, these tables are instead filed in the Language side of the brain. The brain draws the facts from the Language side to apply to the problem solving being done with the Math side. Some students might be excellent with math but have a hard time transferring the Facts over to the Language side.
The only thing that can help a student make the transfer is drill. Good old fashioned math drill. Which is why I was happy to let my girls "play" on the computer with a recent gift from
UberSmart Software
: a downloadable program called
UberSmart Math Facts

UberSmart was created by David Kocur, a homeschool dad who designed it for his own children. It is geared towards K-6th grade, but helpful for anyone in need of some extra math drill. It is a simple download that takes no time at all to install. Once downloaded, it is yours. No internet connection is needed. It isn't flashy or distracting; just simple math drill.
The methods of drill include:
Dot Cards
- These are like adding domino faces. I confess, I just didn't get these. You can examine the example below to see what I mean.
Keyboard Entry
- This helps students practice the Ten-Key number pad on the keyboard, increasing their speed as they increase their memorization skills. The program first helps the student learn
how
to use the keypad. I LOVE this feature.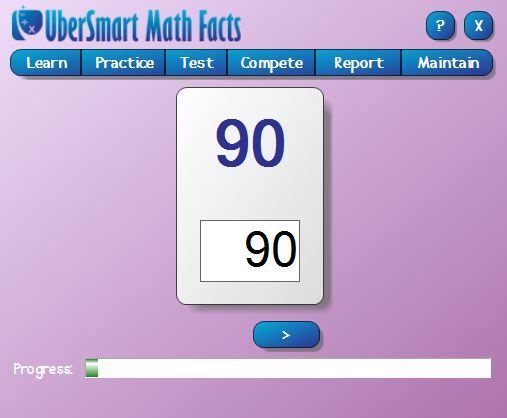 Flash Cards
- These are basic fact quizzes on addition, subtraction, multiplication, and division.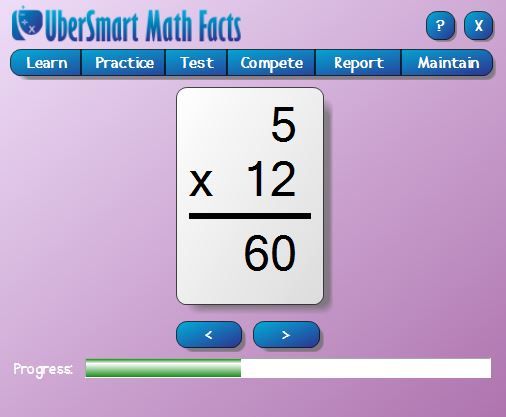 The program covers the facts from Zero on up. Addition and Subtraction go through the 9s, Multiplication and Division lets you set it up to go through the 20s. And that brings us to an excellent feature: you can set it up according to the parameters you want your student to work with at any given time. I really appreciate the control parents can have. Parents can also decide whether or not to use a timer for the drills. This is nice for those who have some students who thrive on competing against the clock and some students who become agitated with the pressure of a clock.
I love that the Facts are introduced chronologically, but as they progress are mixed to improve memorization. I really appreciate this feature as I have seen my girls quickly develop techniques to get the right answer without actually memorizing. They will memorize an order, or skip count, yet not memorize facts. With math wrap-ups, I eventually realized that they were using muscle memory rather than math fact memory! The orderly introduction, followed by mixed facts forces them to memorize the facts rather than memorize an order.
The options in the program are:
Learn
- This is a unique introduction to the facts. Students are shown a problem and are to think of the answer in their heads and then click a button to see if they are correct. It is a low-pressure starting place. We did this portion together, with my girls giving the answer orally and then revealing the answer.
Practice
- This is where students enter the answers using the Keyboard. If they get the wrong answer, the correct answer is shown and they move on to the next problem. No shaming buzzers if they are incorrect and no annoying dings if they get the right answer. We'v tried a lot of math drill programs through the years and the sound effects can quickly ruin a good program for us.
Test
- This is where you choose whether or not to use a timer. Parents can choose the time allowed for each flashcard. This portion allows parents to really see what students have mastered or where they are still struggling. For mastery testing, for speed's sake, the next problem is shown beside the flashcard being drilled. This is great for increasing your speed, but can be confusing for some students.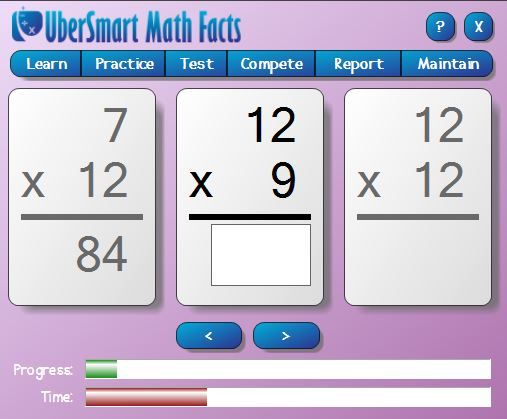 Compete
- Two or more students can actually compete against each other with this option. Yes, you heard me. Obviously a dad thought up this section.
And for the parents:
Report
- This assessment page is available for parents to check the progress and mastery of each student. Graphs show you how they are doing at a glance. Parents have 7 report cards to view to see how students are faring.
Maintain
- This portion for parents to add students, set time requirements for drills, and view updates and information. It is easy to edit at any time. It requires a password to access, so students aren't able to fiddle with anything.
UberSmart Math Facts costs $24.95 for a download that you get to keep forever and use with up to 8 students. If you use the coupon code
v4 Early Bird
,
you can receive 30% off of an already good price until September 30th, 2014. UberSmart has a 100% guarantee. This program works with Windows 7, 8, XP, and Vista only at this time.