My 10 year old's dream is to write and illustrate children's books. She has scratched out many characters, story ideas, and even a few completed story gems. I'm biased, of course, but I really do think they are gems. Realizing how much she loves the art of storytelling, I knew she would love to take a class with
WriteShop
. They sent us the
WriteShop Junior: Book D Teacher's Guide
, the Junior
Activity Pack with Fold-N-Go Grammar Book D
, and the
Junior Time Saver Pack, Book D
and she has
loved
it.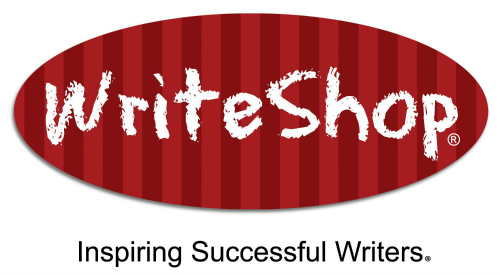 I intended to work through it one-on-one with her, but it includes some games and activities that work well with a buddy, so her little sister joined in. They weren't required games and it could easily be taught with just one student, but everything is more fun with friends, right?
The WriteShop sets are colorful and fun. Even if you opt for the downloadable files, they recommend you print them on colorful paper. The fonts are large and friendly and easy to read. It's just an enjoyable lesson for us to pull out each day.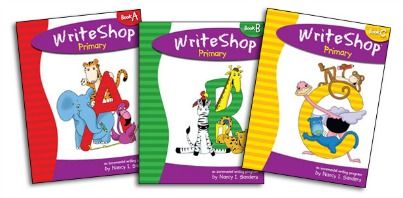 They definitely require some prep-work, but the Teacher's Guide walks you through each activity, step-by-step. I find it much easier to pull out the night before to prep for the next day. There's too much for the girls to sit and wait while I figure out what I'm doing. I thought at first that I would print for the week and prep it all ahead of time, but by the time we get halfway through the week, I forget what I'm doing. Instead, I prep for the next day's lesson as the girls wrap up the current day's lesson.
Each lesson consists of 8 Activity Sets. There are 10 lessons, which means there are 80 Activity Sets. These can be divided up however you like. The Teacher's Guide offers some excellent suggestions for organizing the material for a full school year or a semester. They also have suggestions for scheduling children that are studying different level books at the same time.
Here are the 8 activity sets, listed below. It's a long list, but I recommend reading it if you are considering a writing curriculum. The list shows the systematic approach the publisher takes toward teaching writing, while incorporating an understanding of the child's need for involvement and encouragement.
Activity Set 1
Reading Log - track reading and measure progress
Activity Set 2
Pre-Writing Activity - Introduces new writing concepts to the child
Model and Teach - demonstrates writing techniques to the child
Activity Set 3
Skill Builders - introduce and practice new writing skills
Journal Writing - practice writing skills independently
Activity Set 4
Brainstorming - generate lists of topic idea, determine things to write about chosen topics, organize ideas before writing.
Activity Set 5
The Writing Project - create a story, poem, or short report using new skills
Smaller Steps and Flying Higher - relaxed writing project for younger writers and challenging projects for accelerated learners.
Activity Set 6
Editing and Revising - gain skill and confidence in proofreading and self-editing
Activity Set 7
Publishing the Project - publish the project in a crafty way so the child can take pride in her work and share her writing with others.
Activity Set 8
Evaluating Your Child's Work - track progress from lesson to lesson
Want to Do More? - Apply creative writing skills to other subjects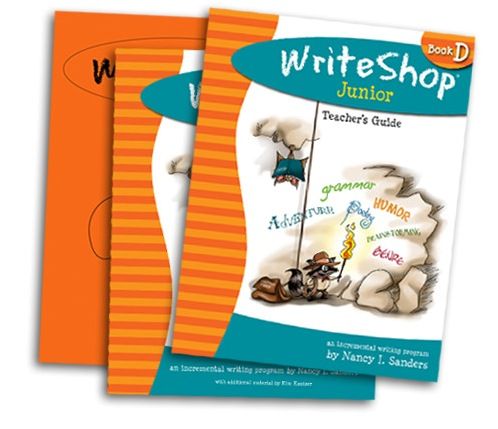 Each of the 10 lessons includes a Fold-N-Go file folder book

that you make head of time. Each lesson also includes time for your students to log the books they are reading. Several different reading log options are given to suit all level of readers.
The Model and Teach time includes mom sitting and discussing how things are done. The book tells me exactly what I need to say and do. The material encourages good conversation, not just "yes" or "no" from the student. It also offers helpful tidbits. For example, when teaching about writing a letter and the including a "salutation", the following is included:



The word "salutation" may be new to your child.
Consider interchanging the term "salutation"
with "greeting." "Salutation" and "salute" come
from the same Latin root word, salus. Explain that
a salute is a military greeting of respect. Kinesthetic
learners may enjoy practicing a salute.
For our lesson on letter writing we played a mix and match game, wrote letters to imaginary events, brainstormed an imaginary event and practiced what we would include in its invitation, and wrote actual invitation letters to a birthday party (good timing!) The Fold-and-Go booklet was a great reference and we did some extra practice with punctuation.
We did a unique "edit" of their work by having the girls highlight specific things they did well, such as spelling a difficult word correctly, beginning a sentence with a capital letter, and using correct punctuation. It was an interesting approach I'd not heard of before.
Letters were sent off with scrapbook embellishments and I began an evaluation chart to track their strengths and weaknesses. We also did the extra assignments with the letter writing chapter:
1. Calculate the party supplies needed for the event and how much it will cost.
2. Create a card on the computer for the event. This one was mostly me, typing what they wrote.
They will learn quite a few fabulous skills with Book D:
Lesson 1: Letter of Invitation
Learn the different elements of a letter and how to construct an appealing invitation. This one focuses on punctuation.
Lesson 2: Humor
Learn the difference between fiction and nonfiction. Learn to include humor in fiction writing. Learn to narrow the topic. This one focuses on proofreading marks for editing.
Lesson 3: Adventure
Learn how to write an adventure story, including the setting details. This one focuses on using Nouns.
Lesson 4: Science Fiction
Learn how to write a science fiction story. Develop the middle of a story to make it more interesting. Learn about plot. This one focuses on pronouns.
Lesson 5: Mystery
Learn to write a mystery. Identify mystery vocabulary. This one focuses on verbs.
Lesson 6: Haiku (my oldest daughter's personal favorite)
Learn to write a haiku. Review syllables. Practice choosing strong words over weak words. This one focuses on adjectives.
Lesson 7: Folktales
Learn to write folktales in their own words. Practice developing voice when writing by showing emotion. This one focuses on adverbs.
Lesson 8: Historical Fiction
Learn to write historical fiction. reviews difference between fiction and nonfiction. Continues developing a strong voice when writing. This one focuses on prepositions.
Lesson 9: Personal Narrative
Learn to write a personal narrative, incorporating emotions and sensory detail. Practice varying sentence length. Improve self-editing skills. This one focuses on capitalization (which is a hard word not to capitalize.)
Lesson 10: Expository Writing
Learn about expository writing. Practice organizing ideas before writing. This one focuses on references, such as dictionary, thesaurus, encyclopedia, and the internet for research.
It covers everything a budding author needs to begin the journey. It does require cutting and taping, assembling of pages beforehand. I am a huge fan of open-and-go lessons, but I must say that this is

so worth it.

It really is. It only takes 5-10 minutes of prep time before my daughters have something fun that they really enjoy learning with. Yes, sometimes it feels silly. I could spout out the information and they would grasp it. But they love learning; they love writing. It takes very little effort on my part to make this favorite class an extra-special treat.
The only thing I don't love about the book is the use of quotes from other parents. On nearly every page of the Teacher's Guide there is a quote from a parent saying how much they love different aspects of the program. I've bought it; I don't need convincing! Why put that there? Is it in case I start thinking about backing out? "Well, Jen in NV says it's a keeper, so maybe I should continue..." It's a small thing, really, and it doesn't deserve the level of irritation I have toward it.
You can view samples of the different levels to see what it's like and to see what best fits your students.
The set I received costs $45.95. There is an e-book version available for $35.50. The print copy happily allows photocopying the material for single-family use. The ebook version will cost you the $10 you save in printing costs, but it will be available to print again for younger siblings.
There are several different WriteShop Products available. It's a company I highly recommend for adding fun to your learning. Check out some of their other product reviews by clicking the box below: