We have mastered multiplication! WE DID IT!!!! I've shared before how I had slowed down our math lessons until I was certain that we had mastered the multiplication tables and how we were moving much slower than anticipated. My girls have long understood the concepts of multiplication just fine. They enjoy math and they grasp it well, but the memory work just wasn't sticking and I'm the old-fashioned type that believes it needs completely memorized inside-out before moving on to bigger and brighter things. I've had trouble finding a book to help us buckle down and cement those facts into their brains, but we finally found it through
Learning Wrap-ups
.
They sent us all kinds of goodies and I'll tell you about each of them, but I'm going to RAVE about the 10 Days to Multiplication Mastery Wrap up and Book Combo ($12.99). The rest of the goodies are all part of the 3rd Grade Math Learning Palette 1 Base Center Kit ($71.99), the 3rd Grade Reading 1 Base Center Kit ($61.99), the Vocabulary Intro Kit ($35.99), Math Intro Kit (Wrap-Ups) ($44.99), and the 10 Steps to Addition Mastery Wrap Up and Book Combo ($12.99).
They also gave me the
Full Online Family Subscription Learning Palette
for up to 5 students ($59.99/year)!
I'm telling you, this company spoiled me!
First, the Learning Palettes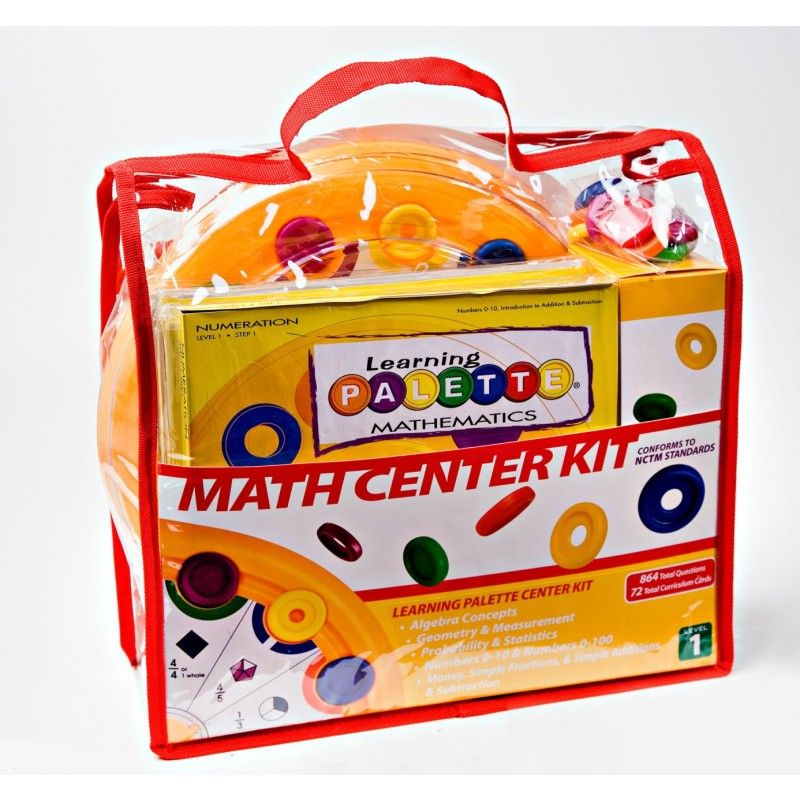 The premise is the same for the both the
math
and
reading
palettes. First, students place one of the many card options onto the palette. The cards are discs that fit perfectly into the palette. There are slots within the card that only allow it to be inserted a certain way. It's easy to do and impossible to mess up. Next, they answer the problems by placing the proper colored disc on the pegs. Once they have finished, they turn the card over and put it back in, this time upside down. The underside has the proper color key printed on it so that students can self-check their own work.
The
Level 3 Math Palette
contains 6 boxes of cards, with 12 cards per box, and 12 challenges per card. These boxes include:
Addition and Subtraction with 3 & 4 Digit Numbers
Fractions, Money, and Decimals
Multiplication and Division
Probability and Statistics
Geometry and Measurement
Algebra Concepts
The Level 3 Reading Palette contains 6 boxes of cards, also with 144 challenges per box
These include:
Prefixes and Suffixes
Grammar
Reading Comprehension
Synonyms, Antonyms, and Homophones
Vocabulary
My first concern when we opened the palettes was that I just knew we would drop one of the colored discs and it would be chewed to pieces by our dog, making the entire thing useless. Thankfully, they sell replacement kits very inexpensively! We've managed to not lose any pieces yet, but the replacement cost is minimal, so I'm no longer worried.
My next conern is that it doesn't actually teach any of these concepts, but is really more of a quizzing of the concepts. With homeschooling, we're one on one with our students and have instant feedback to know if our students have grasped a concept or not; quizzing isn't really necessary. I was afraid my girls would see it as busy work and it would be a waste of time. However, it is nice for extra practice and refreshing their memories and my girls have fun doing these. They get excited about it!
The Online Palettes
The
website palette
looks identical to the physical palette. Students click on the proper disc and place them where they think fits best. They are able to check their work and see immediately how they've done. It's a clean, professional website that does not annoy me, which is impressive for a children's website.
The online palette gives you access to all levels of study. My girls enjoyed this right up until the day we got the physical palettes. They now prefer the real thing, but they've never been huge fans of playing on the computer anyway.
Currently, readers will recieve a 20% discount on the online program when they use the coupon code of HOMESCHOOL.
Next, the Wrap-Ups

These are of an incredible quality. I owned a set of wrap-ups once-upon-a-time, but loaned them to a friend and, well, you know. Those wrap-ups were paper in comparison to these. They are bright, durable, and perfectly sized for elementary-students' hands. I realize the price is a bit steep, but you will own these for the rest of your life. Your grandchildren can do math wrap-ups at your house someday. My girls really enjoy using them.
The
Math kit
contains wrap-ups for Addition, Subtraction, Multiplication, Division, and Fractions. It also comes with a teacher's guide with reproducible self-graphing charts for students to keep track of their speed. It offers ideas for turning the wrap-ups into games they can play with other students. It also contains badges and a certificate for motivating students.
The
Vocabulary Kit
contains wrap-ups for Synonyms, Hononyms, Compound words, Antonyms, and Vocabulary. It also has a teacher's guide with recommendations for extra challenges, such as writing the words on the wrap-ups in alphabetical order, drawing a picture for each word, etc. It also contains a point chart for recording progress.
My girls had fun experimenting to see what angle was best for holding them? Did they do better standing up or sitting down? How fast can I go? They have fun working faster and faster. We have a road trip coming up soon and these will definitely go in the travel bag.
Finally, the Mastery Workbooks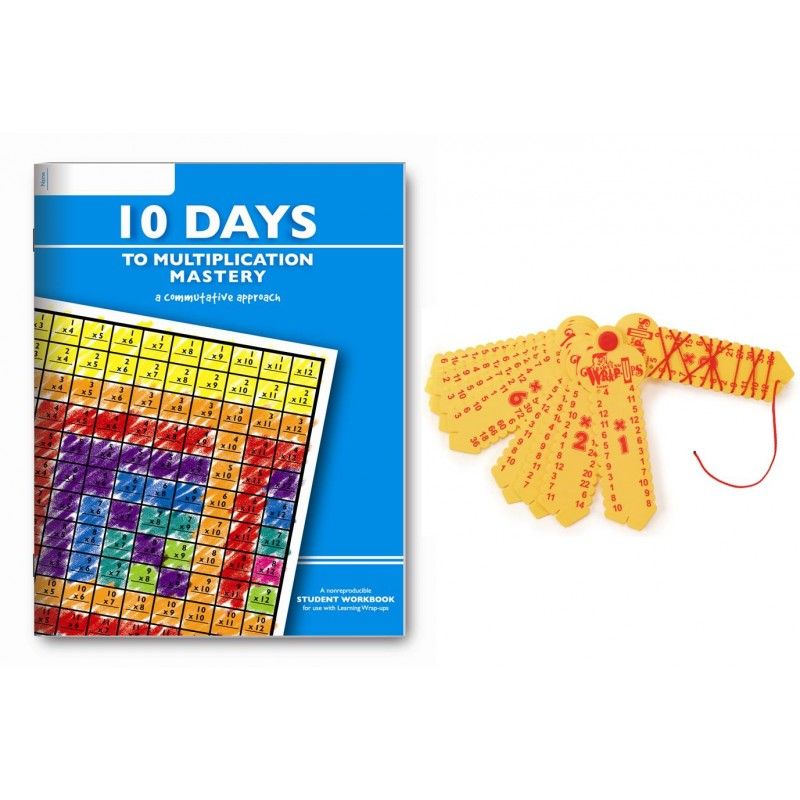 These are my favorite part of the whole program. They are so simple. I feel silly for ever longing for something special and flashy to help us master these math facts! These black and white, get-to-the-point workbooks are perfect for mastering the work in less than two weeks. Both the addition mastery and the
multiplication mastery
share the same format. They are nearly identical, except they are mastering different skills with the same methods.
Students are introduced to the concept and then walked through the fact families. Then they work through the accompanying math wrap-ups. They do this several times and then they are timed. It isn't done with any pressure, but instead is very encouraging. They are asked to set a goal for themselves in regards to time and then a chart tells them how they are doing.
1 minute = Getting Started
45 seconds = First goal. Keep going!
30 seconds = Champ!
20 seconds = Super Champ!
15 seconds = Awesome!
10 seconds = Next to impossible
My girls were determined to be Super Champs and they worked on each set until they reached it.
Students work through the fact families on paper, too. They work through lists of equations, some word problems, and more. There is a solid hour spent on one fact family each day. They continue this for 10 days, coloring in the multiplication chart as they go. This shows them how much they have accomplished in so short a time. It also shows them they're quick progress and how little there is left to learn. They feel from day 1 that they are well on their way to mastering all of the facts. And they are.
This was a breeze, since they already understood multiplication and just needed to work on speed. We spent roughly an hour per day on each lesson, getting faster and faster as we went through it. They each started out at roughly a minute per wrap-up and by the end, they were completing wrap-ups in under 20 seconds. I found it interesting that sometimes they were able to write the answers on paper faster than the wrap-ups. Sometimes, the opposite. Sometimes, one girl would write faster while her sister wrapped faster. It's interesting how the brain works. I love that the program reinforced the skills with several different methods and lots of reinforcement.
There were lots of products and lots of reviewers trying them out, so be sure to see what else Learning Wrap-ups has to offer: