While my goal is to keep things blissfully simple, my life is often a chaotic mess. As kids get older and schedules get busier, the chaotic hum becomes the soundtrack of our life. The few working organizational tools we have become beacons to guide us through the adventure. My dayplanner, chore chart, and our wall calendar have weathered some fun, crazy times.
Until this year.
This year, we couldn't find the perfect wall calendar to fit our perfect frame. We usually start shopping in November because we are ridiculously picky about our calendar. It's silly, really. But November and December came and went without the perfect calendar showing up. At that point, we were happy to have an imperfect calendar as long as it fit in our frame, but even those were gone. January was interesting, without a calendar on the wall to see us through. I even lost my day planner for a week there and things got really hairy.
Thankfully, in February,
Tailor Made Whiteboards
offered to share a customizable whiteboard with me and another for one of my readers! I designed mine to use as a wall calendar and held my breath, hoping it would be perfect enough to replace our yearly hunts for perfect calendars.
It is. It's beautiful. It has fabulous large squares to hold all the details we want to add. The quality is incredible and it is obvious that it is sturdy enough to last for as long as we're going to need a calendar, which means a very. long. time.
Let me tell you briefly about the whiteboards in general and then I'll share mine with you. After that, the giveaway! Tailor Made Whiteboards aren't just for calendars. They can be designed as Menu Planners, Chore Charts, or anything you want them to be. Tailor Made offers many one-of-a-kind designs created with the help of a local Colorado artist, and all of the designs can be personalized because they make them in-house and are eager to work with customers.
The whiteboards come with a Quick Change frame that lets you easily change the graphic insert so that function of the whiteboard can always fit your needs. When mine were younger, a chore chart would have been handy. The calendar is definitely what we need at this stage of life, but when the busy teenage schedules are gone, the menu planner will suit us best. There are many designs to choose from, but they will even work with you to custom design your own background insert. If I had the budget, I would buy different inserts just for the seasonal themes. There are beautiful Christmas calendars and spring calendars and...well, you get the picture. The point is that these things are going to last. I have no doubt the whiteboard and frame will last us well beyond the teen years of parenting. All of the products are guaranteed to wipe clean and remain stain-free over many years of use.
Here is my calendar: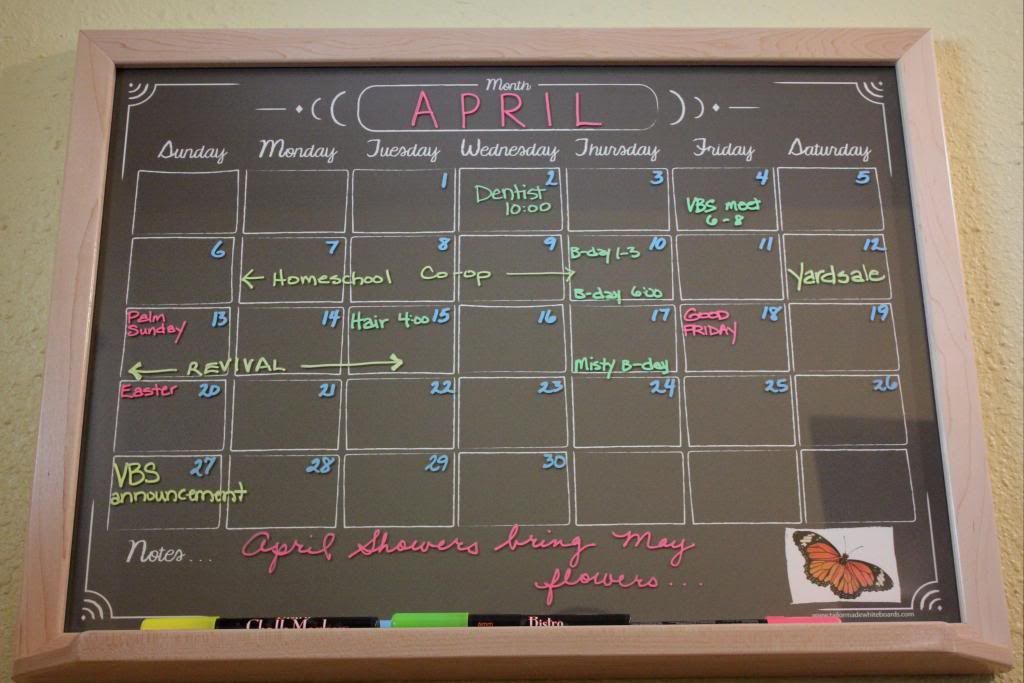 I chose the Chalkboard Activity Planner in an 18x24 size. I chose a black chalkboard background and went with the Maple Changeable Frame. The wood is light, but is well-sealed and I have no worries about it staining or getting dingy. I love the 24 inch tray, which is plenty deep to hold erasers and markers with ease.
The black chalkboard background was irresistible to me, but it didn't quite work with regular dry erase markers. I had purchased some chalk markers for a different project already and they were a perfect solution. I later realized that
Tailor Made Whiteboards
offers chalk markers on their website, and at an even better rate than what I purchased on Amazon. Here it is with regular dry erase, which you can see didn't work very well:
The full price for the whiteboard I received, with all of the customizations and accessories would have been just over $100. My penny-pinching brain seized up at the thought, but then I realized that I have spent well over that amount on calendars over the last few years. The frame for my old calendar cost $30 originally and the calendars that fit it cost us $15-18 each year. They are beautiful and we considered them part of our home decor as well as an investment in our sanity. This whiteboard is of significantly higher quality than our old frame and will be around for many, many more years. This sturdy tool can be handed down to grandkids someday!
If you'd like to order your own Tailor Made Whiteboard, you can save 10% with the coupon code: TMWBFRIENDS
Now for the giveaway! Before entering, please note that this contest is open to U.S. and Canadian addresses only. Canadian addresses will be charged a $45 fee to offset the cost of international shipping.