This past year, I've taught physics to my sons and a son's friend, using Supercharged Science. It's been fun, watching them get excited about science. It's also been fun watching them struggle with concepts and to see understanding dawn on their faces. I love my job.
Coordinating class times with two different families and their schedules had us a bit behind and my subscription to the program was about to run out before we finished. Thankfully, just in time, I was offered the chance to review the e-Science Learning Program so we could finish our class for the year.
This program covers everything, but physics was the class that I especially wanted to focus on this year. This program is largely experiment-based, which is the only right way to learn physics.
There are several ways to use the program:
Student Led
Choose topic that sounds interesting and dive into learning. The experiments are fun and you can quickly get a student hooked on learning this way.
Grade Level
Topics have also been organized by grades, dividing them into the categories most commonly taught to each grade level. These overlap quite a bit with different grades, so this isn't a program you'd want to do 3 years in a row using this method.
Topic
Choose the topics that best fit the class you are wanting to teach. This is what we did for our Physics class. There are many physics themed units available and it fit an entire year just perfectly. Chemistry, Biology, Life Science, and Earth Science topics are also available, but you couldn't build an entire year on one of them, only a couple months at best.
Supplemental
Supercharged Science has a conversion chart that lists many popular science curricula, matching up the book topics with experiments available on the website. If your science book of choice is not on the list, they offer to match up experiments with your book for you.
What we loved
I loved that my younger girls could sit in and enjoy experiments with us. Different levels of questions are available so that all family members can participate.
It is all hands-on learning. There is some reading and students are encouraged to keep good science journals, but the bulk of learning is done through experiments and follow-up questions about the experiments. There are a LOT of interesting experiments available and my boys gobbled them up.
The quick responses. The creators of this program are very quick to answer any questions you send through email.
What we didn't love
The repetition. I didn't notice it so much during our first few months, which I covered in my first review of this program. But Oh. My. Goodness....it repeats a LOT. Each topic begins with a small reading portion and a brief video as an introduction to the topic. From there you begin the actual lessons for the topic and they include nearly identical videos and reading material. From there, students begin experiments which also include reading material and a video. Even within the videos, they repeat themselves a LOT. I understand that it might be necessary for early elementary students to hear the repetition, but there was no way for us to just jump in as high school students without hearing everything a dozen times.
The inconsistency. The worksheets and experiments don't always match up. The experiment video might tell students to use 1 foot of string, but when they pull out their data sheets, they are told to use 3 feet of string. We often skipped the experiment videos in order to avoid the mind-numbing repetition, but it was sometimes necessary and often did not match the hand-outs.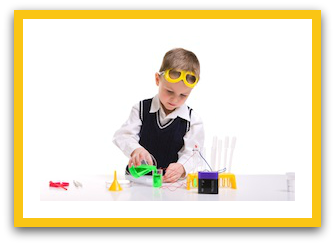 All in all, it is a fun homeschool science program. If you are using it for physics, you can get a full physics course out of it. Otherwise, it could only be supplemental for middle school and high school students. When I reviewed it the first time, I was looking at it with physics in mind. Now that we are finishing that class and I am considering what I will do with my subscription for the rest of the summer, I can not still say that it is worth every penny. $57 for a supplement, awesome as that supplement might be, is still a lot of money for a homeschooling family's budget.