One of the many things I love about homeschooling is the opportunity to pursue unique interests and incorporate classes that aren't available through our local public school.
Home School Adventure Co.
recently gave us the chance to review
Philosophy Adventure
, a class that incorporates critical thinking, writing, and Biblical worldview lessons all in one deep class. With my boys both in the rhetoric stage of learning, this was a great opportunity to pursue those interests!
Philosophy Adventure is available as physical books, on CDROM, or as a digital download. We used the $39.95 downloadable PDFs. The course includes 3 files:
Teacher Resources
This includes flashcards, timelines, maps, and answer keys
Student Workbook
This is a massive workbook. I like to pinch pennies where possible, but I can certainly see the benefit to purchasing the print version of this workbook. The beautiful part of this is that, when finished, students have created their own book on philosophy.
The files for the workbook include the option to type in them and print your work. One son opted to print his and bind it, the other opted to type his lessons and bind it when finished. Of course, mapwork still needs to be finished by hand. Here is a sample of their work:
There are two parts to the workbook: Notebooking Pages and a Journal. The
Notebooking Pages
include comprehension questions, philosopher profile pages, geography work, and creative freewriting. The
Journal
section prompts some seriously deep thinking. The first lesson asks the BIG questions:
Where did I come from and why am I here?
Why is there evil, suffering, and death?
Is there hope for my future? If not, why? If so, what is the source of that hope?
There are no wrong answers to that assignment, and "I don't know" is an acceptable answer if it is an honest answer. The beauty of it is that students will be asked the same question again at the end of the course and can compare the change in their thinking. My 14 year old posed a good question when I told him about this. "What if my answer is the same?" Even better. This means that you can walk away confident that your answers have been well-thought out and are born out of educated thinking rather than a hunch.
Reader
This is the backbone of the lessons. Students begin by reading about a particular philosopher. They read his history, his accomplishments, his teachings. Assignments are given in the topics of Write, Think, and Speak. I love the way this ties everything together. History and geography flow perfectly with critical thinking and Biblical worldview. You hardly notice that you are fully earning a credit in high school composition.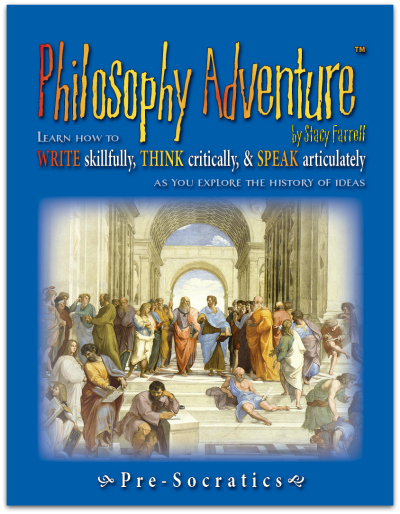 What I loved:
Contemporaries
This small section tells you what other notable figures were making waves in history at the time of the philosopher being studied. For instance, did you know that Phythagoras walked the earth at the same time as Daniel (of lion's den fame), Confucius, and Buddha? I love these timeline triggers that bring history into focus!
Vocabulary
When reading references to Ancient Greece, one runs across many words, names, and places that might be new. I love that these are bolded throughout the lesson and come with phonetic pronunciations. When used with the glossary chart, vocabulary becomes another valuable part of these lessons.
Incorporation
I love that so many topics are covered in one class. I love that this very aspect alone teaches them that learning is part of our lives and not just part of our classroom. This teaches history, geography, memory skills, writing, speech, reading comprehension, vocabulary, and research skills. It challenges them to think, walks them through logical communication, and how to create timelines, maps, and beautiful notebooks.
Completing the full course provides multiple credit options. Homeschool Adventure Co. offers some general guidelines:
| | | |
| --- | --- | --- |
| | | |
| World History / Geography | | |
| | | |
| Logic / Critical Thinking | | |
(
†—
Note: Requirements vary from state to state. Each high school credit roughly represents 120-150 hours of coursework for the full school year. Weekly hour range listed above depends upon the how many weeks students are given to complete the program.)
The Focus
The dedication says it all:
Dedicated to Jesus,
The Answer
What I didn't love
Keep in mind that I found this to be a fabulous and challenging program, so anything I mention as "not loving" is still completely worth tolerating for the sake of enjoying the many fabulous aspects of the program.
The answer key didn't always match the questions as the student workbook. We were able to figure out the answers, but it seems there have been updates to one and not the other possibly. Questions are in different orders or completely nonexistent occasionally.
The program requires preparing for upcoming lessons or being patient as you figure out what assignments and lessons will be together. There is some jumping around required, which isn't always easy when you are using digital editions. Since I uploaded mine in both kindle and google drive on my ipad, I was able to bounce around without much difficulty, but it could be difficult with a different setup. The program could easily be made open-and-go, with a little reorganization, and I hope that they will one day update this. Thankfully, you can register your product with the company and receive new updates and improvements.
The Philosophy Adventure course is intended for students in 6th through 12th grade. I don't feel that students are able to glean the full benefits of the course before they have reached the rhetoric stage, which comes at different ages for different individuals, but is generally somewhere around 9th grade. In addition to missing out on the full value of the course, younger students might also find some of it age-inappropriate, such as a discussion about the massive 900-death suicide of 1978.
For a limited time, you can receive 10% off of any download purchase using the following promotion code:
coupon code CREW-10
expires May 15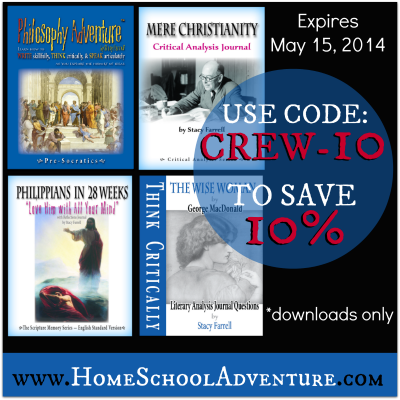 You can find Homeschool Adventure Co. through these social media links to learn more about this great company and the other great resources they offer.
Facebook
Twitter
Pinterest
Google+
Instagram
Be sure to check out other Crew reviews of this and other products from the same company, using the link below.