While
realistic expectations
are right there at the top of the list, a morning routine for mom is an absolute essential to blissful homeschooling.
Morning Quiet for Mom
If you simply cannot find a way to have a morning quiet time, this next section is for you. If you are at the stage where it is finally possible to have one, you can skip on down the page.
When it isn't happening
For most moms, the perfect, peaceful morning routine is simply not possible. But all of the parenting, marriage, and Bible study books tell us we
have
to have it and so we feel guilty and frustrated at our lack of morning routine. Something to keep in mind about those books is that they were written. If that doesn't sound profound to you, stop and imagine yourself having the five minutes of uninterrupted time it would take to be able to compose a sentence, let alone a book. If someone was able to write those books, they were written by someone who has children old enough to buckle themselves into the car without spilling yogurt on their siblings when already late for church.
Some books will tell you that it is so important to have a morning quiet time that you simply must wake up at 4:00 a.m. if that's what it takes. I disagree. Your soul can't be well fed if it isn't well rested. Your children can't be well fed if you fall asleep with your face in the oatmeal pan. Believe me when I tell you: there is a season for restful, quiet mornings. If you still know the price of diapers, it is likely not your season yet. It will come. In the meantime, find ways to focus on God. Morning really is best, in whatever form you can get it.
If all you can grab is a Proverb while you're using the bathroom, grab that Proverb. Play worship music on
Grooveshark
while you cook breakfast. Read a child's devotional with your children - there's meat in there for you, too! Listen to Scripture Memory Songs in the car. They can be annoying as sin, but they still provide opportunities for you to be in the Word. When possible, yes, take a serious sit down with God. Try to make time for Bible study, for your sake and for your family's. But don't beat yourself up if it doesn't come easy. Seek God, but remember that seeking Him doesn't have to look like someone else's quiet time to be genuine. And remember that this season will pass and you will one day have the chance to spend leisurely time in the Word.
When you finally can
And then one day, you wake up and realize that you have the house to yourself for half an hour. Children are actually sleeping until 7:00 a.m. Some don't even wake up until you ask them to! Routines help everyone establish healthy sleeping routines...eventually. When it is possible, try to get to bed at a decent hour so that you can get 7-8 hours in. Wake up early enough to read your Bible and pray. Start your day right and it's amazing how the rest of the day can go.
I don't mean to brag, but to celebrate when I tell you that I AM FINALLY THERE!!!! I am frequently left alone to sleep for 7-8 hours at a stretch! My children are old enough to sleep in a bit. I finally have quiet time to myself in the morning. My morning routine is really working well for me and I want to share it in hopes that it can help someone else. I realize that it fitting me doesn't mean it will fit everyone, but hopefully it can at least help to encourage others to find what works for them.
I used to squeeze my prayer time in between snooze buttons. My husband's alarm went off and I couldn't make my body move, but I couldn't get back to sleep either. I started out just being irritated with him, but finally took advantage of that 10 minute snooze break to ease myself awake and to start praying before my feet hit the floor. It was a very drowsy 10 minutes, but it was still a blessed start to a day.
Today, I kiss my husband goodbye at 6:15 in the morning and then I curl up with my prayer journal. Some days, it is still just 10 minutes. Some days it is 10 minutes per prayer request. I found a system that I love for helping me remember what I want to pray for.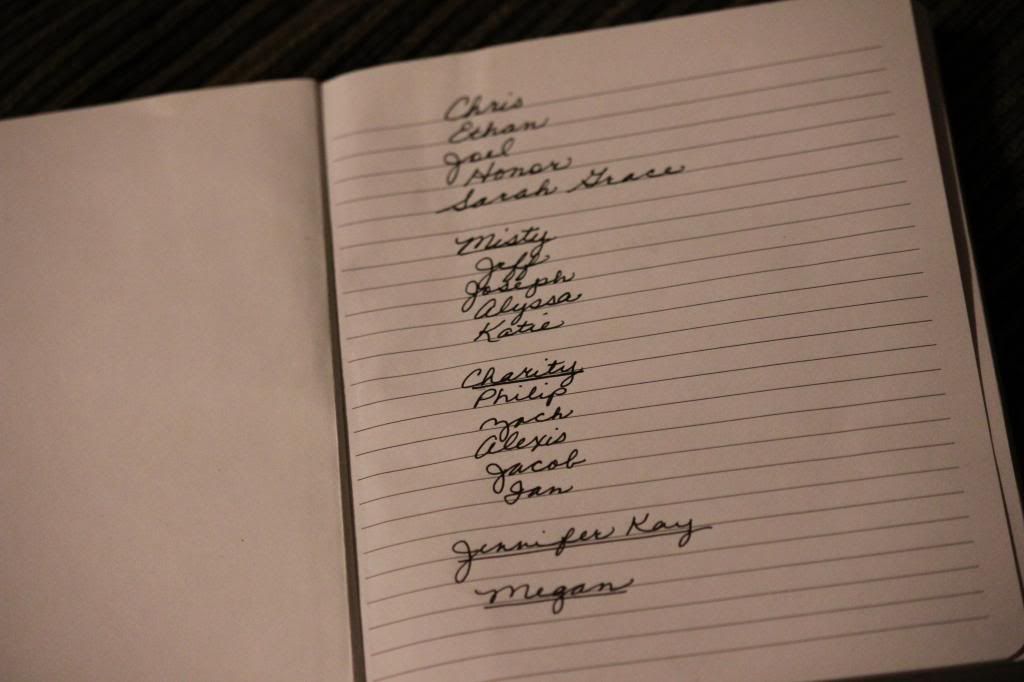 I start with this list of family members' names and pray for each of them specifically. The list goes on and I have a page for friends whom I pray for daily as well. After those pages, I have an ongoing list which I update each week as needed. I go through the list and pray over any unchecked boxes and can't help but stop and praise God for the answered prayers.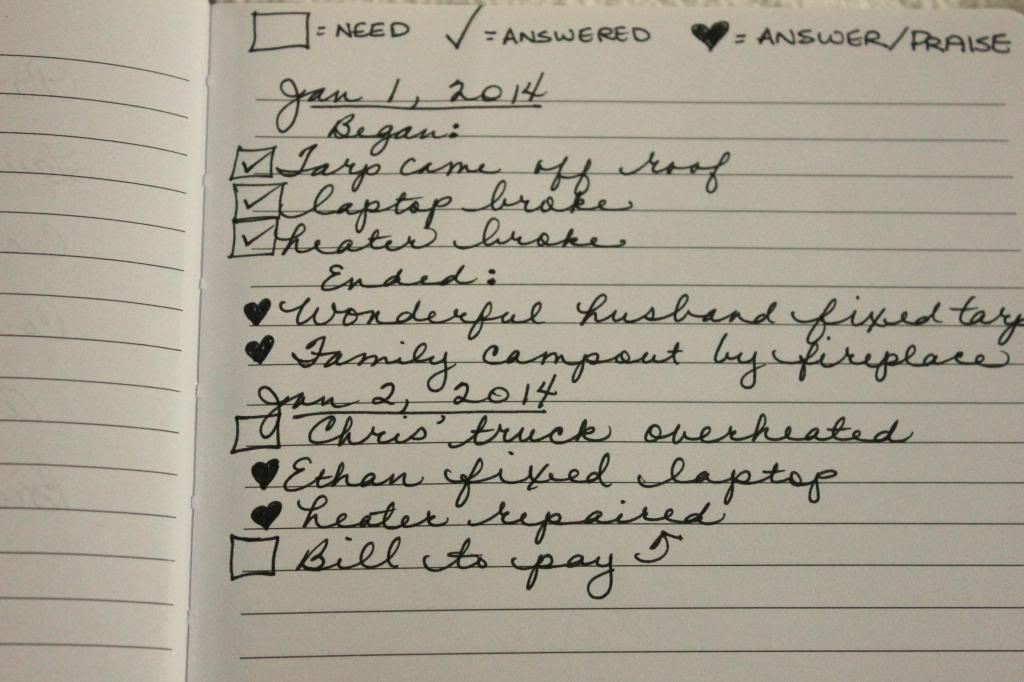 After this, I open up my Bible and begin to read. Sometimes long, sometimes short. When there is time, I read a bit of theology or study online. Currently, I don't have any scripture memory in my routine other than what I do with the kids.
I'm amazed at how those prayers over my children have impacted my days. I can see God's hand at work in their lives. I can see how God is tuning my heart to understand my children better. I am so grateful that He is humbling me to realize parenting moments that need prayer, not a lecture.
This is what is working for me at this season of my life. It is a really great season in this parenting journey. It took me a
long
time to get here. I wish I could go back and tell myself to cut me some slack. I remember the anguished prayers of repentance for not getting up earlier. I'm quite sure God was trying to tell me to shush and go back to bed. I was too tired to hear Him. Now, I'm pretty sure God is telling me to shush and step away from the computer. There is such a thing as too much free time.
How about you? What is working for you in your season of life? Have you found any tips or tricks for a healthy quiet time?
There are some fabulous tips being shared in this Blog Carnival. Be sure to check them out through the image link below, but especially my buddies whom I've listed here. Great stuff!
Jody @
Because I'm Me
Melanie @
A Year of Jubilee Reviews
Emilee @
Pea of Sweetness
Nikki @
Angels of Heart
Sara @
Embracing Destiny
Heather @
Only Passionate Curiosity
Shalynne @
Wonderfully Chaotic
Kathy @
Kathys Cluttered Mind
Annette @
A Net in Time
Blissful Homeschooling Essentials Part 1
Blissful Homeschooling Essentials Part 2
Blissful Homeschooling Essentials Part 3
Blissful Homeschooling Essentials Part 4
Blissful Homeschooling Essentials Part 5