The
Institute for Excellence in Writing
(IEW) is legendary within the homeschooling community. They are present at every homeschool conference and expo, with friendly and helpful booth attendants. They are well known as the top-notch program to go to for high quality writing instruction. But I've avoided them for the most part because it looked a little intimidating and because there is a cost involved. However, after an opportunity to review it, I am now quite convinced that it really IS "that good" and I wish I had been brave enough to try it out years ago.
IEW has many products available. I tried their Student Writing Intensive for Group C and the course for teachers: Teaching Writing: Structure and Style.
Student Writing Intensive (SWI)
This set includes 4 instructional DVDs and an Overview DVD. It is an incredible program, created to give students in high school (and upper middle school) a jumpstart in writing instruction. It was perfect for us. My 8th and 10th grade sons have had very little formal writing instruction, though neither one has shown signs of being allergic to it. They are quick learners and a jumpstart is exactly what we needed.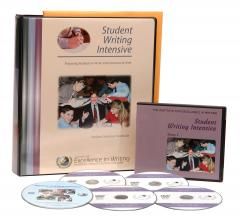 The set-up is easy and all spelled out for you. It took me less than five minutes to set up the student and teacher notebooks
Generally, each lesson can be covered within one week, which includes the students and the teacher watching the DVD together and then practicing what was learned on the DVD through assignments. Andrew Pudewa is very entertaining and the time went quickly. He made it impossible to begrudge the requirement for me to watch with my student.
There are 15 lessons, with a sample schedule paced out at 30 weeks. Lessons are intended to last between one and two weeks, depending on the needs of your student.
Most of our lessons were easily able to be completed within a week, but I appreciated the built in extra time.
There are different levels of this program and we received Group C, which is most suitable for older students. There is an A and B Group as well, so you'll want to read the Crew Reviews on these products if your students need a different level.
Teaching Writing: Structure and Style (TWSS)
This program is the beauty behind IEW. It is also the intimidating part of IEW that sometimes scares people away. It does require a time investment, but it is oh-so-very worth it.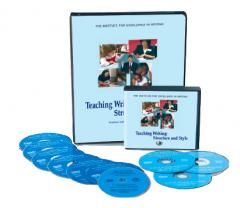 This program is for the teacher. It is a course designed to teach you how to provide a strong foundation in writing for your student.
I was so relieved to realize that it isn't intimidating at all! IEW knows what life is like in a homeschooling family. They set up the program to be processed in bite-size portions. You
can
watch it all in one 10-hour sitting, preparing yourself through the summer to teach writing in the fall, but I tend to forget things when I do it like that. Instead, it works very well for me to go through the TWSS at the same time that we go through the SWI course. The SWI teacher guide tells you when and what to watch in the TWSS program in order to be prepared for each lesson in SWI. It is
possible
to teach SWI without TWSS, but the SWI includes only about half of the material taught in TWSS. The guides fully explain how to implement the material in such a way that your student (and you) won't be overwhelmed. There are many recommendations for adapting the program to suit your student's needs, including suggestions for omitting or substituting exercises and adding reinforcement exercises if needed.
There are several different ways to do the lessons. The notebook provides a basic outline for a 5-day week of writing lessons, which looks similar to the following:
Monday: Watch the lesson
Tuesday: Complete the writing assignment from the lesson
Wednesday: Edit the assignment
Thursday: Write the corrected assignment
Friday: Create an outline
However, as they point out, students are often excited about their writing assignment after watching the DVD and are ready to dive right in. I found it worked better to schedule in a couple writing days per week, at a couple of hours per day. So instead, my schedule looks more like this:
Weekend: Mom watches the TWSS video (1-2 hours) and reads the pages from the seminar notebook (around 15 pages).
Monday: We all watch the SWI DVD (around half an hour) and then work on the writing assignment.
Tuesday: Mom edits assignments.
Wednesday: Students type up the edited assignment and work on their key-word outline or other assignment from the DVD.
If more reinforcement is needed, we are able to work through the extra assignments and hand-outs during the following week. Otherwise, we move on.
Both programs work through 9 concepts, which include:
Note Making & Outlines
Summarizing from Notes
Summarizing Narrative Stories
Summarizing a Reference
Writing from pictures
Library Research Reports
Creative Writing with Structure
Formal Essay
Formal Critique
Things I didn't like:
The DVDs were originally recorded as four 2.5 hour classes. The guide recommends breaking those sessions up into smaller sessions, spreading the lessons over 15-30 weeks. But because it was recorded as longer sessions, there are no breaks in the DVD to tell you when to stop watching for the week's lesson. However, the teacher's guide clearly tells you when to stop the DVD, so this isn't really a problem. The only time it is really a bother was when we forget to take note of the stopping point and had to fast-forward to find where to begin for the next week's lesson. That was before I remembered that the Disc times are listed right in the Teacher's Notes! It tells us exactly what point in the DVD timing to fast forward to.
Things I like:
I like the Composition Checklist that accompanies each assignment. The lessons begin simply and progress steadily and the checklists grow along with the lessons. The earlier lessons have some easy things such as putting your name on your paper and double-spacing your paper. Because the checklist slowly grows with them, they aren't overwhelmed with suddenly having 20 things to remember to include in their paper. Instead, it gently becomes a habit to write well.
What I love:
IEW makes it clear that their objective is to boost enthusiasm for writing and to provide tools to help students be successful in the writing challenges they'll face. I love that they really mean it. Again and again, they seem to think of any question I might have and provide a solution for it. And in case they haven't answered it in such a way that I understood it, they provide ways to reach them so they really can help with anything that comes up.
Things you should know:
I don't know quite how to say this, but I was surprised by Andrew Pudewa's voice the first time I heard him speak. He is an incredible speaker, with great things to say, but his voice is quite distinct. It is not annoying and it didn't grate on the nerves at all. But it is...different. You can
hear a sample
of him teaching SWI-C online to listen for yourself to be sure it won't be a distraction for you. After a moment of watching, I no longer notice. He truly is an excellent teacher. He is clever and hilarious and you quickly forget that he sounds like a girl. We've had the privilege to listen to him speak at a homeschooling conference and my husband loved listening to his sessions. In fact, he's easily bothered by voices and he didn't really notice at all, so perhaps I'm just strange.
SWI costs $109.00 by itself and it includes:
a teacher's DVD overview
4 instructional DVDs
a sturdy 3-ring binder with dividers
100-page packet including handouts and teacher helps.
Extra binders and packets can be purchased for $19 if you have more than one student.
TWSS costs $169.00 by itself and it includes:
6 instructional DVDs
a 2-hour supplemental refresher course DVD
3 DVDs of sample student workshops
Seminar Workbook which includes charts, syllabus, samples, and more.
Initially, this is an investment that isn't made lightly. But having tried it, I fully believe it is well worth the investment. It is a fabulous program that is worth pinching pennies for. I don't say that about very many programs, but I really believe it here. If, like me, it is out of your budget, you might consider joining with friends and forming a small writing group and investing in the program together. I've found that students tend to write better when someone other than mom is going to watch anyway.
Be sure to check out their
free resources
, as well. An excellent tool that they provide for free is an article for
Marking and Grading
your students papers, as well as many other helpful things.