I have found the ultimate planner.
Seriously, folks,
THE ultimate planner
.
I have tried a lot of planners in my day and have never been completely satisfied. For the last several years, I've resorted to creating my own. It was a nuisance, but worth it to have what I wanted. I have just downloaded this baby, though, and I am in awe. It includes 800 pages. Eight HUNDRED!!! Just for a quick refresher, there are only 52 weeks in a year. So what on earth fills the rest of these pages?
Everything.
Want to organize your homeschool year? Set goals? Keep reading logs? Keep scores? Plan and document field trips? Create unit studies? Chronicle Unschooling? Or perhaps you'd like some practical recipe ideas for dinner tonight? How about a menu planning form while you're at it? There are forms on housekeeping. Budgeting. Gift shopping. Pet care. Excellent articles that really apply to real families. List of Capitals. List of Presidents. Conversion charts. THE CONSTITUTION OF THE UNITED STATES, people! I am in awe.
But here's the really cool part. You can type inside the forms. You don't have to print things out and write the same details every week. You can type right into the form and print them up as needed. You can type your entire syllabus if you want. You can type your pantry supply list. You can type Babysitter Emergency Information. A very handy feature indeed.
Even cooler part? There is a planner for everyone. You can get a planner for your high school student, middle school student, elementary student, and for your special needs student. I'm a weekly planner myself, but my older boys like to see it listed daily. Now they can copy from my weekly plan and design their own week!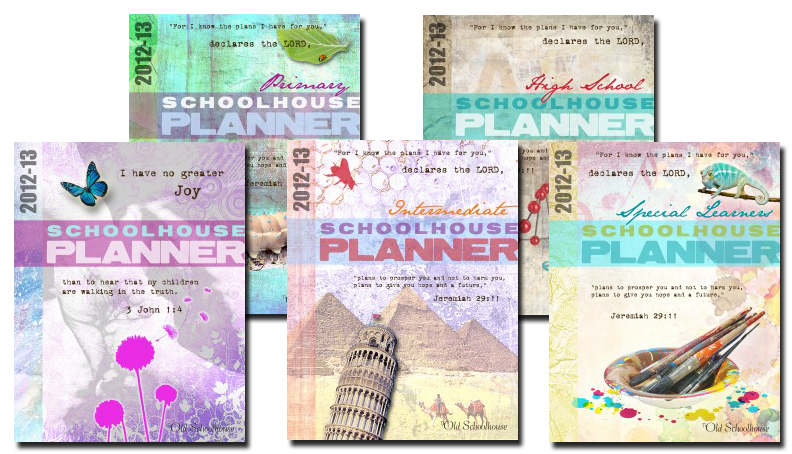 If you'd like to view a sample of the planner,
visit here
and
here
. And don't forget, these planners are absolutely free for everyone who joins
Schoolhouse Teachers.
Another way to earn a free planner is by joining this giveaway! Actually, that's TWO free planners because The Old Schoolhouse magazine is giving me the big planner to give to you, the teacher, and one student planner of your choice. The giveaway closes on July 14th, which is coming up quickly! Sign up below for some easy entries!