Honor has been working through an old favorite of mine: Maria Miller's
Math Mammoth.
I've used several Math Mammoth products in the past and have never been disappointed. This time, we received a book from the Light Blue Series, a complete
Grade 4 Math Curriculum
.
My daughter doesn't have a lot of confidence in her math skills and was thrilled to find out she was ready for 4th grade math. She was doubly thrilled when she found out she could do the work. She told me that it is hard, but not too hard. It makes her think and she appreciates the challenge.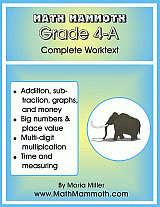 These books are written directly to the student, allowing them to work independently. It introduces new topics very simply and provides a perfect level of practice and review. Concepts are introduced one small step at a time in a way that doesn't overwhelm them, but doesn't let them get bored either. There are a variety of problems given for practice, which requires students to continue thinking about the concept and tests whether they have really learned each concept.
Once a concept has been mastered, the book moves on and builds upon that knowledge. There is review of old skills, but not through ad nauseam drill. Instead, this concepts are brought up in new lessons and applied to new skills, building on their solid math foundation.
The text does an excellent job of explaining the how and why of math. It walks them through the process of mental math strategy. Much thinking is required, but it doesn't inspire frustration. Maria Miller has found a nice balance of challenge. It incorporates an elegant logical mastery approach. The pages are simple, with no distractions and laid out for easy visual processing.
This is a downloadable curriculum and the PDF files include:
Grade 4-A (includes 173 pages)
Grade 4-A Answer Key
Grade 4-B (includes 170 pages)
Grade 4-B Answer Key
Tests for each chapter, end of year tests, and test answers
Dragons, and Medicines, and Pi, Oh My - an ebook full of activities to accompany the book Sir Cumference and the Dragon of Pi.
Flashcards for Line Segments of a Triangle
Worksheet Generator (online) - excellent for those times students might need more intensive review.
The lessons themselves include:
Ch. 1 - Addition, Subtraction, Graphs, and Money - includes word problems, estimating, and mental math.
Ch. 2 - Place Value - focusing mostly on thousands but works up to millions.
Ch. 3 - Multiplication - working up to multiplying a 3 digit number by a 2 digit number.
Ch. 4 - Time and Measuring - includes temperature, fractions, weight, volume in both Metric and Imperial.
Ch. 5 - Division - focuses on long division.
Ch. 6 - Geometry - works up to area and volume.
Ch. 7 - Fractions - includes adding and subtracting mixed numbers, fractional parts, comparing.
Ch. 8 - Works up to hundredths and multiplying decimals.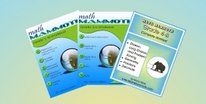 The only items you need for this program are printer, paper, ink, pencil, ruler, and measuring tape. Actually printer, paper, and ink are optional since students can actually type directly into the worksheets since they are enabled for annotation.
The Light Blue Series, Complete Grade 4 Curriculum is available for download for $34. You can purchase Grades 1-3 as a set for $68 or Grades 1-6 for $136.
If you are uncertain where your student should begin, there are
free placement tests
available on the Math Mammoth website. Also, w
hen you visit
the site,
you have an option to sample Math Mammoth for free with 300 worksheets and helpful emails about commonly asked questions and Maria's Math Newsletter.
Math Mammoth includes complete curricula for each grade and many other options as well. Some of the books target specific skills. This is very helpful for anyone using another program but needing to stop and work on specific concepts that students might be struggling with. The Schoolhouse Crew reviewed many of these different products. Be sure to check those out through the link below.