It is not a joke at all when I tell you that the most stressful part about homeschooling is eating lunch. It seems to jump out and surprise me every day. We'll be in a great learning groove and making excellent headway in a subject, and then suddenly, my students start whining about hunger pains. Making lunch requires not teaching while I make lunch. It means massive clean-up after we've eaten lunch. It means I lose my students for up to 2 hours sometimes! The best solution I can imagine is to hire a caterer or order delivery every day. But since that isn't in the budget, another great option is to implement the advice from the book
Simplified Dinners by Simplified Pantry.
I received the Gluten Free/Dairy Free version of Simplified Dinners, entitled
Simple Gluten-Free & Dairy-Free Meals.
We don't have to eat GFDF, but my family does well on a Paleo-style diet and this book fits the bill.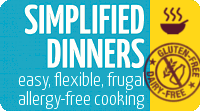 The beginning of the book includes some excellent advice, which I've found to be true: Avoid "wannabe" foods. That intricate mix of 5 flours and exotic ingredients will NOT taste just like Pizza Hut. It just won't. And even if you can come close (which you can't,) it can't be worth the time and money involved. Instead, focus on all the great foods available to you and enjoy them!
The book also includes a handy list of foods that contain gluten and a list of foods that contain dairy. These include foods I never would have thought about, such as artificial coloring, modified food starch (which is in
everything
now as a cheap filler), artificial and natural flavors.
The idea is to, well, keep things simple. I could use some simple. The recipes included are delicious, easy to make, and contain only a few ingredients. Nothing required dirtying a bunch of dishes. Many variations were listed for basic staple meals, such as a chicken dinner. We loved the Orange Honey Chicken! The book gives the basic preparation instructions for a meal and then lists different variations you can use to create completely different flavors in meals, making it impossible to get tired of things. And though there are only 34 pages in the book, it is crammed full of meal ideas to keep you busy for a while.
The ingredients were basic and the methods were simple. As an example, the Orange Honey Chicken dish I mentioned was just orange juice, honey (or brown sugar) and a squirt of ketchup cooked with frozen chicken. Following the recipe, it was a very thin sauce, but extremely tasty. I took most of the juicy sauce and cooked it on the stove with arrowroot powder to thicken it into a glaze and tossed it back into the crock pot with a bag of frozen veggies. I added some cayenne for kick, too. It was a hit! Even with my use of a second pan and stopping to turn the sauce into a glaze, my prep time was less than 15 minutes.
The variations take a meal and turn it into many different meals, so with the book, you have: 8 roasts, 8 main-dish salads, 7 lentil dishes, 6 different stews, 17 soups, 6 bean pots, 6 desserts, 9 amazing marinades (who would have imagined coffee and molasses in a marinade? yum!), and lots more.
The peanut butter cookies were a huge hit with my bunch. With 4 ingredients and 15 minutes, we had chewy, moist cookies that were gluten-free & dairy-free. We took them to our church picnic and they disappeared quickly.
There were a few pasta recipes which recommended rice noodles and some fajita/burrito recipes that required finding wheat-free tortillas. But otherwise, the ingredients were basic. In my small town, it is very hard to find ingredients that classify as even moderately exotic. The only ingredient I had trouble finding locally was tamari, but it is easily replaced with soy sauce or Bragg's aminos.
Because of the many legume recipes, it isn't something I would recommend as a paleo cookbook, but it is excellent for anyone with dairy or wheat allergies, or for anyone just wanting to avoid these foods (like my family.)
This PDF ebook is $12.99. You can print it and add to your recipe binder, or you can upload it to an eReader for a digit copy. Mystie Winckler is the author and she has a couple other books you might find of interest. This GFDF book which I reviewed is nearly identical to her other book:
Simplified Dinners
. Mystie also has a book entitled
Paperless Home Organization
, which does for your files what Simplified Dinners did for my lunches.
Mystie also has an incredible Simplified Pantry
Blog
, full of free recipes and ideas. I recently subscribed to her posts and have gleaned lots of ideas already.
Mystie has generously shared a 30% off coupon for my readers! Enter TOS2013 at checkout for any of her eBooks. This coupon is good through June 3rd.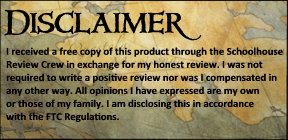 .