Sonlight is a program that I have always wanted to try. I was
blessed
to receive the
Core 3
package and my family has had so much fun using it! This is
not
a textbook kind of program. Sonlight is a literature-based curriculum that combines small readings of history guides with lots of excellent fiction books that represent the time period being studied. It comes with books, guides, and more suggestions than you could possibly complete. I love having options!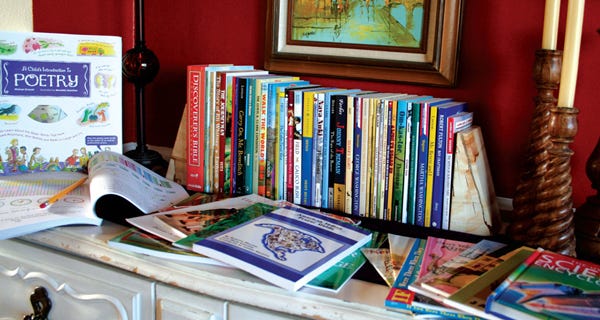 I sang and danced around the living room as we unpacked our Sonlight box. The book choices were top notch. The best of the best. I have researched literature inside out and I knew exactly what books I wanted to cover for this history study....
Sonlight chose the same great books!
They truly are "great" books chosen to not only reinforce a history lesson, but to inspire the reader to
think
. I always thought this school-year in a box was out of my budget, but the price of these books is actually cheaper through Sonlight than through Amazon. Sonlight lists their prices of books in comparison to Amazon prices and nearly every book is cheaper than Amazon's. From the Sonlight website: "If you are a
Core Sonlighter
then you can save
$82.15
on this package of 74 items rather than buying 44 from Amazon and 30 from Sonlight separately." The "30 separately" were books not carried on Amazon.com.
Another concern of mine was my need to control everything. I was afraid I would rebel if I was supposed to stick to a strict lesson plan. This hasn't been an issue at all. Sonlight comes with an
Instructor's Guide
that lays out everything you'll be studying in a nice, orderly fashion. It is arranged with two options of a 4-day or a 5-day schoolweek. Sometimes I worked it all into a 3 day week and moved ahead while other days I stretched it out over a 2-week "schoolweek". It was easily adaptable to fit our needs. Each day shares suggestions for a
Bible
reading (with incredible discussions notes often shared,) Memory work, a
History/Geography
lesson (also with great discussions notes and maps,
Readers
listed for younger and older students reading, a Read-Aloud, and Poetry. Each Reader also comes with a study guide for extra activity, discussion, and mapwork to take those stories deeper. Everything was laid out so that the boys finished their books just in time to coincide with each other and with our history lessons. It was perfect. We've
loved
this.
An article entitled
27 Reasons Not to Buy Sonlight
strongly convinces me that Sonlight is an amazing fit for me. The only thing Sonlight and I don't see eye-to-eye on is my preference of a 4-year cycle for history. Granted, I always take longer than a year to get through each cycle, but I think this method provides even more opportunity for parallelism and insight. However, my regular choice for a history program didn't go nearly as deep as I wanted to go in American History, so we were pausing to study this same theme when our Sonlight box arrived. The timing could not have been more perfect!
I love their guarantee. It is a lot of money to drop all at once, though not more than you would spend purchasing these same books individually. It's hard to spend that much when you aren't certain it is a perfect fit. But Sonlight offers an incredible guarantee, taking all fear of risk away. "...with Sonlight's
Love to Learn/Love to Teach Guarantee
, you get to not only touch and feel your Sonlight materials, but actually use the materials in the comfort of your home for 18 weeks with our promise of a full refund if you feel the need to return them."
I love that the creators of Sonlight are Christians and that the curriculum edifies our faith without relying on Christian-speak. Most of the books are secular and the children get to read about other ideas and beliefs that are out there, but in a safe and healthy environment that encourages discussion. I think this is important - because those ideas are out there. Our children will hear it at some point. I do not want to raise ignorant children who can't fit into society enough to
reach out
to society. I don't want them to blend in and become natives, but I don't want them to run home crying at the age of 19 either. I feel it is my job to equip them to live out their faith deep in the trenches of the world.
Another great resource is the Sonlight Forum. I confess I didn't spend much time here due to my lack of extra time to spare, but for years now I have heard people talk about how cool the Sonlight Messageboard is. Lots of great insight on there!
If you are a Sonlight fan, there are
great supplements
available to take lesson even
further
, even though they really don't need it. If you'd like to combine Sonlight Core 3 (American History) with Story of the World's chronological World History,
this chart
might be helpful. It is geared towards Hakim's History of the US, not specifically geared toward SL, but it is easy to place coinciding events together to broaden the view from US history to world history. And here is another
excellent resource
for those interested in Sonlight.
Sonlight is teacher-friendly. It is meaty and it is flexible, two things that don't generally go together. Their communication is wonderful and very helpful. I can't think of a single bad thing to say about this program. I'm still on cloud nine that God blessed us with the chance to review it!